Cybersecurity Consulting Services in Scottsdale, AZ
Cybersecurity Consulting Services in Scottsdale
With computers and other digital devices being a regular part of plenty of work environments, businesses cannot afford to slack on cybersecurity. StratTech Solutions is a full-service IT firm in Scottsdale, AZ providing businesses in the area comprehensive cybersecurity consulting services.
With the help of the company's cybersecurity consultants, you can fortify your organization's cybersecurity systems and keep your business running without the fear of cyber attacks compromising your operations.
Cyber Security
For small to medium-sized businesses, the days of being able to take cybersecurity lightly are over. If you maintain client data, you cannot afford to get by with minimal security measures that no longer work against new and daily threats.
Scottsdale-based cybersecurity consulting firm StratTech Solutions can bring your organization's cybersecurity up to the high standards that larger-sized firms are held to. Our unique mix of cybersecurity consulting services and hands-on approach to working with Scottsdale clients provides you with peace of mind that your business is secure.
The following is a breakdown of what encompasses a successful cybersecurity scan: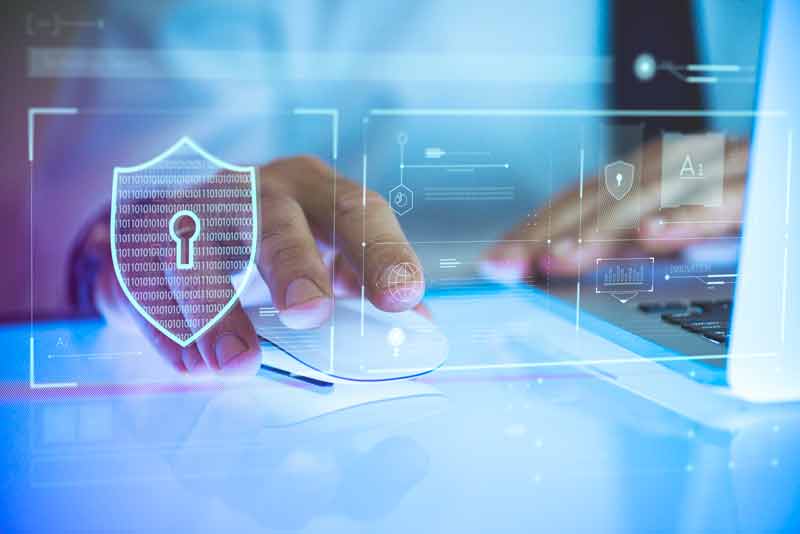 What Makes a Successful Cybersecurity Scan?
Email Security: Email security is not just for businesses. Protect your personal and business email systems from threats of malware, spam, phishing, and ransomware. We can also provide solutions that maintain continuity in the event of a server interruption.
Email Encryption: Fortify your information processes by encrypting your data, thereby preventing leaks of valuable information.
Data Encryption: StratTech Solutions goes beyond regular data encryptions to provide the greatest protection of your data. Our systems thwart threats and eliminate attacks.
Network Encryption: (VPN and Clever Dome): You've secured your emails and your data, but what about your network – the foundation of your operations? In this ever-evolving world of increased mobility and data transfer, we work with you to create a system that safeguards your most sensitive information. We also provide secure communications solutions to safely transfer your data.
Authentication (2FA): Authentication offers enhanced protection for your data transfers. We create multi-factor authentication solutions that go above and beyond to safeguard your information.
Port Scans: Through our port scans services, StratTech Solution can investigate computers and servers' ports to diagnose any vulnerabilities or suspicious activities within your network.
Endpoint Protection: Endpoint protection checks your systems from beginning to end to eliminate any potential response situations that could result in a major security breach.
Device Control: Device control strategies help you examine not only the access that is granted to each device in your network but how much access to the network and crucial information each device has.
MDM: Mobile Device Management (MDM) is a solution that is specifically designed to elevate the efficiency of your workforce through the power of mobility. These solutions enhance productivity without compromising your organization's security. Solutions encompass all mobile devices on multiple operating systems.
Dark Web Monitoring: Monitoring the dark web is crucial to preventing identity theft. Through dark web monitoring, we monitor your information and provide notifications when information is found online.
The Benefits of In-Depth Cybersecurity
Increase Data Protection
From your company's private files to your customer's personal information, protect your data with robust cybersecurity measures.
Improve IT Support
The best cybersecurity systems can give your in-house IT experts the support they need to effectively keep your organization digitally secure.
Inspire Customer Confidence
When customers know that their information, from their names to their bank account, is in safe hands, they will be more confident to do business with you.
Why Choose Us
StratTech Solutions isn't your run-of-the-mill cybersecurity consulting firm. The company places a high value on its clients, ensuring that you get the service you need for your business.
With StratTech Solutions as your IT solutions partner, you're placing your business in the capable hands of tech experts who can keep your organization secure through robust cybersecurity consulting services and measures.
Got a Question?
The StratTech Solutions team is ready to help! Fill out our contact form below and we'll get back to you shortly.
Learn About All Our Services!


Get Answers Today!
The team at StratTech Solutions is driven to develop strong relationships with our clients. Business owners appreciate our focus on developing technology strategies to achieve bottom-line business objectives. Technology leveraged correctly can have a positive impact on a business. If you haven't already, contact us and let's talk about a better future with technology in your company!
Office
7825 E. Gelding Dr. Suite #104
Scottsdale, AZ 85260
Hours
M-F: 7:30am - 6pm
S-S: Closed